Sketch of Public Policy Communion, December 2017
webmaster
2018-01-16
591 reads
2017年12月份國政聯誼會縮影


  本會已於2017年12月17日假台北喜來登大飯店地下二樓喜廳舉行「祐生國政聯誼會」。在主持人黃晉英秘書長宣布後揭開當日活動序幕,在輕鬆、活潑的節目過後,隨即由主持人帶來重要訊息:「近日天氣嚴寒,室內與室外溫差甚大,提醒大家特別注意衣物的穿著方式,要能因應10度以上的溫差,以調節氣候的變化。另外,祐生於1990年前往大陸考察,觀察到大陸以建設現代化都市為標竿,忽視與氣候異變的關係,可能是導致今日嚴重的霾害與沙漠化的原因,故上位者應謹慎做出正確決策。最後,感謝大家投稿2018祐生線上博覽會,象徵祐生持續關切人類生存的議題,不斷努力朝永續目標邁進。」接著介紹新任商學知識執守者白佩錦小姐。
  The December Archilife Public Policy Communion of 2017 was held on December 17, 2017. After a series of relaxing and fun activities, Secretary General Huang Chin-ying made the following announcement, "It has been getting cold lately. As the difference between indoor and outdoor temperatures are high, we would like to remind you to pay attention to how you dress for the weather. It should be able to cope with a minimum temperature difference of 10°C to adjust to climate change. In addition, we conducted an onsite investigation in China in 1990 to observe how China implemented urbanization and modernization without also considering their correlations with climate change. They may very well be the causes of smog and desertification. Therefore, those in the higher positions should make the correct decisions cautiously. Lastly, I want to thank everybody for submitting papers to the 2018 Archilife Online Expo. The event symbolizes our concerns for human survival issues and continuous efforts to pursue sustainable development." Later on, the new knowledge keeper to introduce herself to the members.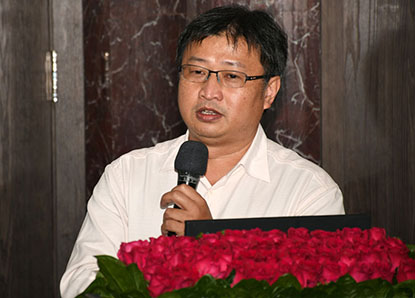 緊接著進行專題演講,由陳遠鴻先生主講「無障礙設施實務操作與案例解說」。主講人首先提到近來火災事件頻傳,部分也與無障礙設施的設置工法不確實有關。室外通路部分,通路不同時須設引導標誌,並避免地面不平整及不當鋪設導盲磚導致妨礙輪椅行進。坡道扶手部分,須注意兩側皆應設置符合規定之連續性扶手及防勾撞處理。室內出入口常見到的缺失為高低差未設置坡道,可藉由設置活動坡道與升降平台改善。主講人以豐富圖片舉出許多實例,讓與會者認知到無障礙設施的專業性及安全正確設置的重要性。
  Next on the schedule was the keynote speech. First, Mr. Chen Yuan-hung, presented a speech on the "Accessible Facilities: Practice, Operation, and Case Study". Chen began with the recent increase in fire accidents, and some of them are correlated to the inappropriate construction of accessible facilities. In outdoor channels, as no guiding sign has been built at the same time, road surface is unsmooth, and tactile ground surface indicators are improperly paved, and wheelchair movements are blocked. With ramp handrails, continuous handrails should be installed and a hook and impact proof treatment should be made on both sides of the ramp. According to Chen, the absence of ramps at entrances is a common problem in buildings, and this can be improved by installing moveable ramps and elevation platforms. Chen presented many pictures as examples for attendees to recognize the expertise of accessible facilities and the importance of their construction.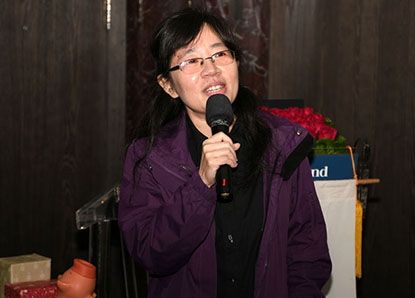 接著由國政會委員李君如小姐主講「因應當代需求與挑戰的都市建築」。主講人首先提到政府與企業的決策,關切著台灣土地的發展並攸關全球環境。接著介紹台中市都市空間設計大獎,獎勵對於都市有貢獻之建築作品。評審原則為都市公益性及生活關切,並能因應台中的氣候及空間尺度。主講人提出許多案例,皆為能與自然並存,創作自然複層植栽,垂直綠化以及社區與戶外自然交錯之建築體。最後,主講人表示人與自然共生的過程當中需要磨合,建築在新舊之間如何找到回應氣候異變之路,並朝向祐生共生理念,仍有許多課題需要大家來實踐。
  Next, Ms. Li Chun-ju, spoke on "Urban Construction for Modern Needs and Challenges". She began with the decision-making of governments and enterprises to express her concerns about land development in Taiwan and its relevance with the global environment. She continued with the Taichung Urban Design Awards which award architectural works that contribute to urban development. The rating principles include urban charity and life concerns and the suitability for the climate and spatial scale of Taichung. Li presented many examples of buildings that co-exist with nature and create natural, multilevel vegetation and vertical greening, and interact with communities with outdoor scenery. Lastly, Li mentioned the need for adaptation in the symbiosis between people and nature, how old and new buildings find a way to address climate change, and there are many to realize to achieve the symbiosis concept of Archilife.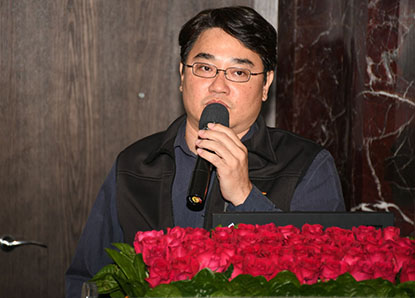 接著由國政會委員王敏州先生主講「變遷中居住議題的轉向--社會住宅」。主講人首先表示社會住宅有其時代代表之精神,本次介紹台灣南北社會住宅概況,以台北市健康公宅為例,以一房、二房、三房之格局,簡單卻不失機能完整性,具備通用設計,並鼓勵有創意之居民入住。以高雄市鳳山區建國新城為例,原為都發局擁有的十九戶公寓,重新打造為社會住宅,使建築物空間有效使用,給予入住市民舒適的居住環境和打造家溫馨感。主講人表示,政府決心要推動社會住宅,供弱勢家庭改善其居住品質,應有長遠的政策確定性,才能逐步解決居住議題。
  Next, Wang Min-chou, spoke on "The Turn of Housing Issues in Changes: Affordable Housing". At the beginning, Wang explained that affordable housing has its temporal spirit. In this speech, he introduced the affordable housing in southern and northern Taiwan. According to him, the Jiankang Community in Taipei has three types of units: one room, two rooms, and three rooms. They are simple but functionally integral for universal use. The Taipei City Government encourages creative residents to move in. Wang continued with the Jianguo Community in Fengshan District, Kaohsiung City. The community was previously a 19 unit apartment building owned by the Urban Development Bureau. It was demolished and re-built into affordable housing for the effective use of building space and offers a comfortable living environment to citizens to build a sweet home. According to Wang, when determining to build affordable housing to improve the living quality of vulnerable families, governments should make concrete, far-reaching policies to progressively resolve housing issues.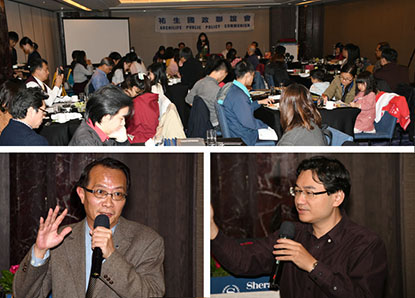 演講完畢,黃晉英秘書長代表基金會致贈謝禮予主講人。接著在與會者紛紛利用「餵豬時間」提出個人意見與看法互相交流後,圓滿結束十二月份國政聯誼會。
  After the speech, Secretary General Huang Chin-ying presented a gift to the speakers on behalf of the foundation. Then, attendees expressed and exchanged their opinions and views during the piggy hour. The December Archilife Public Policy Communion ended smoothly.