Sketch of Public Policy Communion, November 2019
webmaster
2019-12-13
413 reads
2019年11月份國政聯誼會縮影


  本會於2019年11月24日假台北晶華酒店地下三樓晶英會舉行「祐生國政聯誼會」。在主持人黃晉英秘書長宣布後揭開當日活動序幕,在輕鬆、活潑的節目之下,隨即由主持人帶來重要訊息:「新型態「讀書會2.0」已於9月10日正式開展,以提升讀書會更深的價值為目標,重點在於由「專智」、「通智」到「眾智」,並訓練大家能利用短短一分半鐘的時間,精準表達意見,持續帶領大家朝向全知的領域邁進。另外,全球各地災變怵目驚心,政治也紛紛擾擾,在此情景下,我們應找到自己的定位,為台灣做出努力,在各個領域中,實踐祐生理念,使人類得以永續生存。最後,提醒大家凡走過必留下痕跡,行事應謹言慎行,保守以對」接著介紹新任知識執守者,為數位媒體執守者楊昀蓁小姐、兒童讀物執守者賴品樺小姐及教典執守者李泓穎先生。
  The November Archilife Public Policy Communion of 2019 was held on November 24, 2019. After a series of relaxing and fun activities, Secretary General Huang Chin-ying made the following announcement, "The new form of "Bookish Assembly 2.0" has officially started September 10. With improving study groups by deepening their value as the target, its emphasis is on "knowledge focusing", "knowledge generalization" and "knowledge popularization". It trains everyone to precisely express their opinion within 1.5 minutes and continues to lead us to the field of all-knowing. On the other hand, due to global disasters and turbulent politics, we should seek our positioning under such scenario, contribute our efforts for Taiwan, and practice Archilife ideas in different fields for the sustainable survival of mankind. Finally, I remind everyone that trails will be left wherever you walk, so we should be prudent on our actions and stay a low profile." Later on, the three new knowledge keepers took turns to introduce themselves to the members."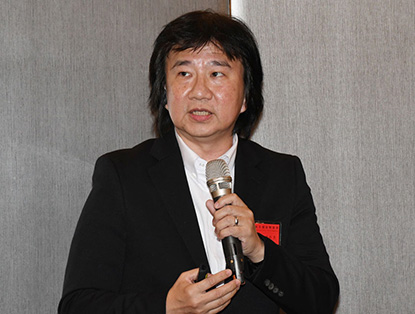 緊接著進行專題演講,由國政會委員洪啟東先生主講「因應氣候變遷的全災型減災風險評估架構的崛起:新竹案例」。主講人首先表示氣候變遷對環境造成的影響,政府紛紛提出相對應的減災調適策略;檢視竹北市的都市規劃,卻將具有減緩及調適功能的農地進行變更。竹北市滾動式的都市治理,也造成都市土地的脆弱及地區發展的失衡。因此,政府應考量氣候變遷與土地使用變遷的減緩與調適,在全災型管理規劃與調適策略方向下,建立適當的體系,提供絕對而充足的資源支持減災、防災與演練等情境災潛設想工作,利用土地使用規劃做為減災與調適工具,以減少災害應變的壓力,達成全災型管理及永續韌性。
  Next on the schedule was the keynote speech. First, Mr. Hung Chi-tung, presented a speech on the "The Rise of All-disaster Disaster Reduction Risk Assessment Structure Corresponding with Climate Change: Case Study of Hsinchu". The speaker first mentioned that, due to the influence on environments from climate change, governments have successively proposed corresponding disaster reduction adjustment strategies. However, when examining the urban plan of Zhubei City, it changed agricultural lands that serve reduction and adjustment functions. The rolling urban governance of Zhubei City also resulted in fragile urban land and unbalance on regional development. Therefore, the government should take climate change and the reduction and adjustment of land usage change into consideration in order to establish an appropriate system under the direction of all-disaster management planning and adjustment strategy. By doing so, definite and sufficient resources can be provided to support disaster reduction, disaster prevention and drills, and other potential disaster scenario operations. With land usage planning as tool of disaster prevention and adjustment, we can reduce the pressure of disaster corresponding and achieve all-disaster management and sustainably resilience.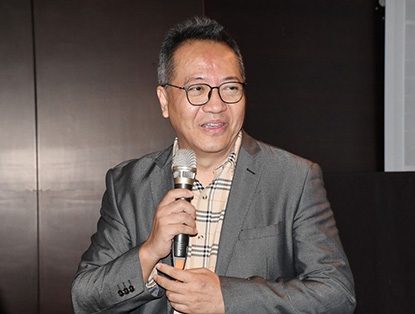 接著由國政會委員吳綱立先生主講「熱濕氣候地區閩南傳統聚落自然通風策略與設計準則之研究」。主講人首先表示透過金門十處典型傳統閩南聚落建築外部空間通風環境研究,以多尺度模擬分析的整合應用,與規劃設計及土地開發管控的結合,來促進金門閩式聚落建築的永續發展,並提升居民外部空間活動時的舒適度。以金門聚落戶外通風環境CFD模擬分析與比較,提出四種方案,包括:加大通風開口、避免入流風處的遮擋、調整建築座向及加強通風廊道留設,藉此達成環境改善與保存聚落的雙贏局面。
  Next, Mr. Wu Gan-li spoke on "Research on the Natural Ventilation Strategy and Design Principals of Minnan Traditional Settlements at Hot and Humid Climate Regions". The speaker first mentioned that he researched the external space and ventilation environment of 10 classical traditional Minnan settlement buildings in Kinmen. With the integration and application of multi-dimensional simulation analysis, along with the combination of planning design and land development control, to promote the sustainable development of Minnan-style settlement buildings in Kinmen and enhance the comfort level of the residents' external space. The lecturer also carried out CFD simulation, analysis and comparison on the outdoor ventilation environment of Kinmen settlements and proposed 4 solutions: enlarge ventilation openings, prevent wind inflow, adjust the facing of buildings, and enhance ventilation corridors. By doing so, it expects to achieve the win-win situation of environment improvement and settlement preservation.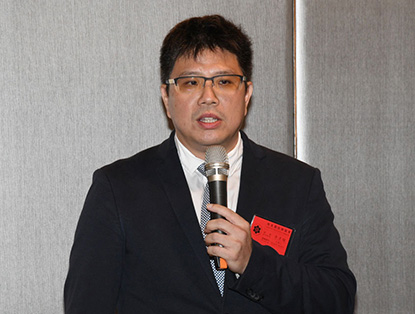 接著由國政會委員李彥頤先生主講「亞洲氣候對應城市發展之路」。主講人首先提到二氧化碳濃度升高,造成全球暖化、夏季延長、乾季,更使得海平面上升。顯性危機也包含了全球各地的野火,連帶影響到人體健康。主講人接著提及台灣小雨日數的減少,使得植物乾渴、揚塵汙染。根據統計,每十個面臨氣候變化和自然災害風險最大的國家中有七個在亞洲。而都市高溫環境下,植栽如何有足夠的水份來進行氣候調節,也是迫切面對的課題。主講人也以德國漢堡的氣候適應策略為例,進而轉化為高雄市的氣候對應總體規劃核心思維,使能永續發展並同時適應氣候變化。
  Next, Mr. Li Yen-yi spoke on "Asian Climate and Urban Development". The speaker first mentioned the increase of CO2 that resulted in global warming, the prolonging of the summer and dry season, and further caused sea level rise. Crises also included wild fires around the world that also affected human health. The speaker then mentioned the decrease of light rain days in Taiwan that caused withered plants and dust pollution. According to statistics, 7 out of the 10 countries that suffered greatest risk due to climate change and natural disasters are in Asia. Under the high temperature of urban environment, one of the most obvious issues is how to plant enough plants to provide sufficient water for climate adjustment. The speaker also brought up the climate adjustment strategy of Hamburg, Germany as an example and further discussed the holistic core planning ideas of Kaohsiung on climate, expecting to correspond with climate change while promoting sustainable development.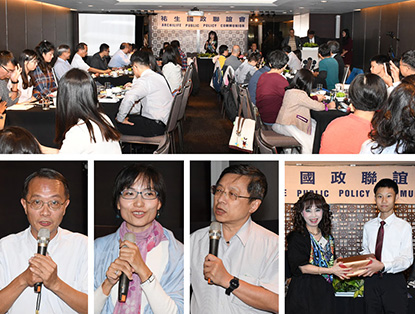 演講完畢,黃晉英秘書長代表基金會致贈謝禮予主講人。隨後,黃晉英秘書長揭曉2018年「祐生謎‧猜」答案:台北市最高溫月份為8月份37.8℃,並致贈禮品予獲獎者見習生張子游先生,榮獲六合一環境檢測儀乙台。接著在與會者紛紛利用「餵豬時間」提出個人意見與看法交流後,圓滿地結束十一月份國政聯誼會。
  After the speech, Secretary General Huang Chin-ying presented a gift to the speakers on behalf of the foundation. Later on, Secretary General Huang Chin-ying announced the answer of 2018 "Archilife Riddle Guess". The month with the highest temperature in Taipei City was 37.8℃ in August. She then presented intern Mr. Chang Tzu-yu with the present of a 6-in-1 environment detector Then, attendees expressed and exchanged their opinions and views during the piggy hour. The November Archilife Public Policy Communion ended smoothly.