Sketch of Public Policy Communion, May 2018
webmaster
2018-06-10
324 reads
2018年5月份國政聯誼會縮影


  本會已於2018年5月27日假晶華酒店地下三樓晶英會舉行「祐生國政聯誼會」。在主持人黃晉英秘書長宣布後揭開當日活動序幕,在輕鬆、活潑的節目過後,隨即由主持人帶來重要訊息:「當前全球政局紛擾,如川金會舉行與否,而台灣也面臨邦交國陸續斷交的處境。在諸多人擇的壓力下,以及面對天擇─氣候異變的影響,我們要思索未來應走的方向。近日來溫度持續攀升,對於生活各層面皆造成影響,所以,本月份仍進行「祐生謎‧猜」,使祐生成員養成關注氣候變動的習慣。另外,iiSBE Nils Larsson執行長於昨日受邀來訪,以「氣候變遷與國際永續建築趨勢」為主題在TSSBE會員大會中進行演說,並對於台灣推動永續綠建築成果給予極高的肯定。未來,祐生將持續參與國際事務,散播共生化理念。」
  The May Archilife Public Policy Communion of 2018 was held on May 27, 2018. After a series of relaxing and fun activities, Secretary General Huang Chin-ying made the following announcement, "There are many uncertainties in global politics such as whether the Trump-Kim meeting will be held or not as well as countries breaking diplomatic relations with Taiwan. Among the various pressures derived from human decisions and the affect of natural selection, climate change, we need to ponder on the direction we should be heading in the future. The temperature has continued to rise recently and has caused many affects on various layers of our daily life. Therefore, the "Archilife Riddle Guessing" will be once again, in order for Archilife members to be constantly aware of the climate. Moreover, CEO Nils Larsson of the iiSBE was not only invited yesterday to make a speech on "Trends on Climate Change and International Sustainable Building" at the member's conference of TSSBE but also highly recognized Taiwan's progress on promoting sustainable green buildings. In the future, Archlife will continue to take part in international affairs and express the idea of symbiosis."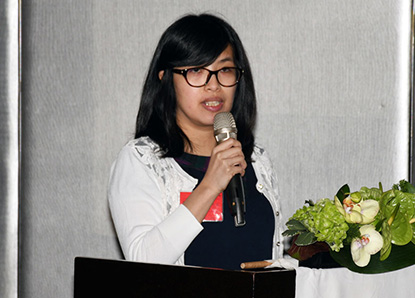 緊接著進行專題演講,由生活特組組長鄭瑋寧小姐進行「生活特組2018年上半年結案報告」。主講人首先說明本階段進行歷年成果檢討,包括建立大數據資料庫,分析回饋到生活層面,並針對實地踏查進行討論。另外,善用週邊資源,建構防災地圖、水資源地圖及野菜地圖等。本階段對於水資源穩定供應建置管理機制,進行現有水源及使用狀況分析,以及需求評估。主講人表示,未來將針對每個議題做出具體可研究的實質內容,做為未來實際進駐的行動方案。
  Next on the schedule was the keynote speech. First, Ms. Cheng Wei-ning, presented a speech on the "Archilife Living Special Team Meeting Implementation Report for the Second Half of 2017". The speaker first mentioned that they have carried out reviews on past progress in this stage of operation, including establishing a big data database in order to analyze related feedback according to our daily life and carry out discussions on field research. In addition to that, they also utilized surrounding resources to illustrate disaster-prevention maps, water resource maps and vegetation maps. As for building up a management mechanism for stable water resource supplies, they have conducted analyses on current water resources and usage status in this stage of operation and made assessment on its demand. The speaker stated that in the future, detailed researchable concrete content will be made on each agenda as the action plan for future actual stationing.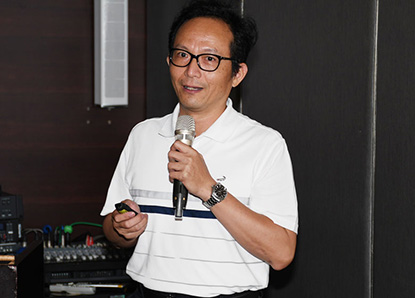 接著由國政會委員陳志誠先生主講「彰化縣智慧綠金議題外章--稍縱即逝的畢業設計」。主講人首先提到彰化縣政府智慧綠能產業政策,在風力發電部分有優良離岸風場,並首創產學合作的「台灣離岸風電維護運轉學程」。主講人以學生針對彰化塭仔港為主題所做之畢業設計為例,學生們傾注所學能量,深入了解當地歷史人文,以改善目前塭仔港簡陋漁獲買賣型態為設計概念,發展漁港觀光。主講人表示,期望引導學生捕捉記憶,發掘內在真正關心的議題,並在各個領域中努力,保留具歷史價值之地景。
  Next, Mr. Chen Chih-chen, spoke on "Extra Episode on Smart Green Energy of Changhua County: A Fleeting Graduation Design". The speaker first mentioned the smart green energy industry policy of Changhua County Government. He mentioned that there are outstanding offshore wind turbines for wind power and has founded the first "Taiwan Offshore Wind Power Operation Maintenance Degree" through industry-academy cooperation. The speaker mentioned the example of the students' graduation design on the Wenzhi Port of Changhua and explained how students devoted their learning energy to understanding local history and culture in order to improve the simple and crude local fish trade model and develop fishing port tourism. He stated that he hope students can learn to capture local history to discover issues with local attention and work hard in various fields to preserve landscapes with historical value.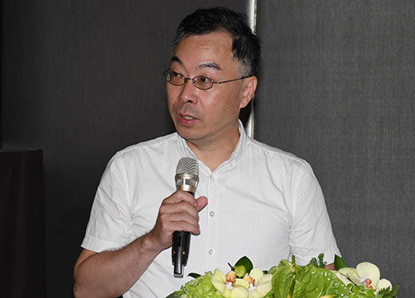 接著由國政會委員孫大倫先生主講「性別主流化--六大工具介紹」。主講人首先表示性別平等主流化為國際潮流,主講人稱之為「寧靜的文化革命」。落實性別平等有六大工具,包括性別統計、性別分析、性別預算、性別影響評估、性別機制及性別意識培力,為透過性別統計資料的呈現,分析瞭解不同性別者的社會處境,建制不同性別者的友善環境。主講人也與大家分享在日常各層面統計資料中,不同性別表現行為之差別,表示若能將性別統計納入國家政策裡,定能獲取更多效益。
  Next, Mr. Sun Ta-lun, spoke on "Gender Mainstreaming: An Introduction on Its 6 Main Tools". The speaker first mentioned that gender mainstreaming has become an international trend that he described as a "silent cultural revolution". There are 6 main tools to implement gender equality, including gender statistics, gender analysis, gender budgeting, gender influence assessment, gender mechanisms, and gender conscious training. Through the presentation of gender related analytic data, we can analyze and understand the social status of different genders and build a friendly environment for all genders. The speaker also shared that if we can understand the action differences of different genders through various analytic data and implement gender statistics in our national policies, we can certainly obtain more benefits.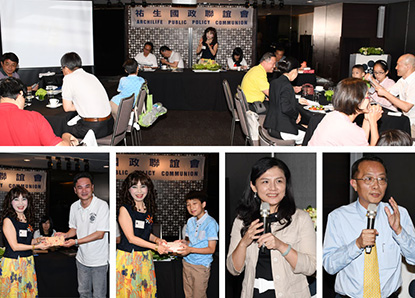 演講完畢,黃晉英秘書長代表基金會致贈謝禮予主講人,同時臨場隨機進行機智問答。接著在與會者紛紛利用「餵豬時間」提出個人意見與看法互相交流後,圓滿地結束五月份國政聯誼會。
  After the speech, Secretary General Huang Chin-ying presented a gift to the speakers on behalf of the foundation, and played a brainstorm game. Then, attendees expressed and exchanged their opinions and views during the piggy hour. The March Archilife Public Policy Communion ended smoothly.