Sketch of Archilife Study Tour, February 2017
webmaster
2017-03-11
520 reads
2017年2月份見識之旅縮影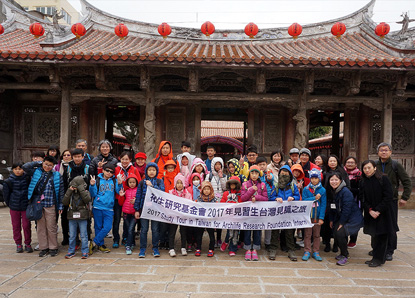 2月份見識之旅活動,於2017年2月11日由呂明澐小姐帶領39位祐生見習生及家長們,進行鹿港古城遊蹤暨民俗工藝體驗之旅。活動開始之初,領隊呂明澐小姐提醒本次活動注意事項及觀察重點,先行建立見習生的背景知識。
  For the study tour of February 11, 2017, Ms. Lu Ming-yun led 39 ARF interns and their parents on a tour to the ancient city of Lukang and experienced its traditional crafts. At the start of the day's activities, team leader Ms. Lu Ming-yun reminded everyone about things to note and what to observe, and provided the interns some general background knowledge.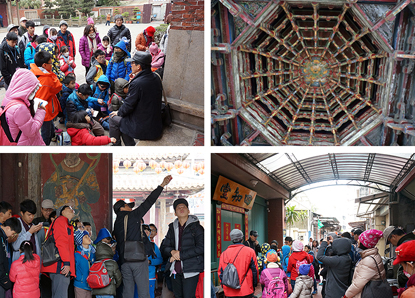 本次行程以鹿港地區為主軸,由在地文史工作者擔任導覽老師。鹿港於清治時期為一座港闊水深之港口城市,貿易相當熱絡,係僅次台南府城的第二大城市。然清末之後,因泥沙淤積而逐漸沒落,卻完整保留了豐富的古蹟、碑匾等文物。行程一開始,參訪鹿港龍山寺,雖然經歷多次局部與整體的修葺,仍係目前台灣保存最完整的清代建築物。導覽老師帶領眾人自山門進入,一路走過五門殿、八卦藻井至後殿,皆詳細解說建築結構及雕刻泥塑彩繪象徵的意涵,其格局之精細及工藝之精湛,被喻為台灣民間藝術的殿堂。離開龍山寺後,緊接著步行至九曲巷進行導覽,沿途講述九曲巷彎曲建造的原由和功能,與當時做為騷人墨客聚會之所的十宜樓,以及象徵械鬥界限的隘門等,老師講解過程中融入民間小故事,生動活潑,讓見習生們印象深刻。
  The day's itinerary was centered on the Lukang area and guided by a local culture-history research worker. During the Qing Dynasty, Lukang was a busy trading port with a deep and wide harbor, ranking second only to Tainan City. At the end of the Qing Dynasty, it started to decline as sediment built up but many cultural artifacts remained intact, including ancient relics, tablets and banners. The tour began with a visit to Lungshan Temple. Despite numerous partial and full renovations, it remains Taiwan's well preserved Qing Dynasty structure. Following the tour guide, everyone entered through the sanmon, passed the Five-door Hall, bagua caisson ceiling and into the rear hall. The tour guide provided a detailed explanation of the temple architecture and symbolism of the carvings, sculptures and paintings. The temple's intricate design and exquisite workmanship makes it the epitome of Taiwanese folk art. After leaving the temple, everyone walked to the Nine Turns Lane as the guide explained the reason for the turns of the lane and their functions. The guide also introduced the Shiyi Hall, which used to be the gathering place for writers and poets, and Ai Gate, which symbolizes the boundary for war. The tour guide integrated many folk stories into his explanation to enliven it, making a deep impression on the interns.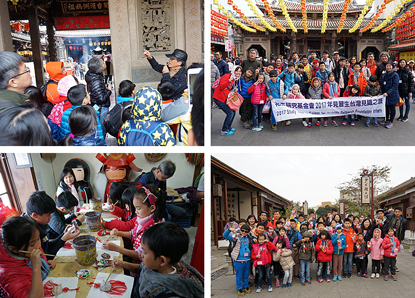 午餐後,參觀鹿港天后宮,木石刻鏤及彩繪為著名匠師打造,可謂畫棟雕梁。因後殿奉祀玉皇大帝,其龍柱為單龍盤柱,五爪握珠,是台灣甚為少有的五爪造型。導覽老師亦介紹全台唯有三尊由信眾捐黃金打造的金身媽祖,天后宮奉祀者即是其一。行程最後,以桂花巷藝術村為探訪重點,園區內進駐多位藝術工作者。首先參觀本次導覽老師陳仕賢先生的工作室-鹿港影像館,透過老照片認識鹿港早期經濟文化的發展與變遷。隨後來到「ㄕ公館工坊」,由從事獅頭工藝創作多年的師傅介紹台灣獅與南北各地舞獅的異同,以及各色獅頭面譜所代表的意義,見習生們亦進行獅頭彩繪體驗,皆玩得不亦樂乎。至此,本日活動已近尾聲,大家一起合照留念後各自返家,並期待於下次見識之旅再相見。
  After lunch, everyone visited the Lugang Mazu Temple. The wood and stone carvings, and paintings, are the handiwork of master craftsmen. As the rear hall is dedicated to the Jade Emperor, its dragon pillars feature a single circling dragon holding a pearl in its claws, which is a rare five-claw design in Taiwan. The tour guide also introduced the Goddess Mazu statute built with gold donated by followers, and it is one of the only three in Taiwan. The final leg of the tour was Guihua alley Artist Village, where many artists stay. The first place visited was the tour guide Mr. Chen Shih-hsien's studio – Lukang Image Gallery. Through his old photos, everyone learned about the development and changes in Lukang's economy and culture in the early years. The next place visited was the Taiwan Lion Craftsman workshop. Master craftsmen skilled in lion head making introduced the differences between the Taiwanese lion and lions in the north and south, and the symbolisms of these lion-head faces. The interns also had fun painting the lion heads. At that point, the day's itinerary came to an end. Everyone returned to home after taking a group photo and looked forward to the next study tour.