Sketch of Archilife Study Tour, July 2018
webmaster
2018-08-14
1361 reads
2018年7月份見識之旅縮影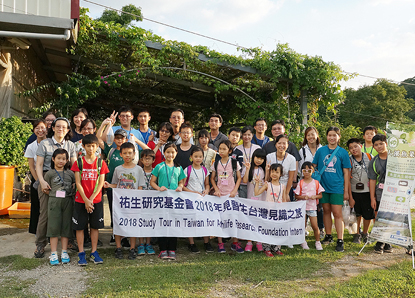 7月份見識之旅活動,於2018年7月14日由呂明澐小姐帶領34位祐生見習生及家長們,進行桃園大溪音樂體驗暨魚菜共生生態之旅。活動開始之初,領隊呂明澐小姐提醒本次活動注意事項及觀察重點,先行建立見習生的背景知識。
  For the study tour of July 14, 2018, Ms. Lu Ming-yun led 34 ARF interns and their parents on an eco-tour to experience music and explore aquaponics in Daxi, Taoyuan. At the start of the day's activities, team leader Ms. Lu Ming-yun reminded everyone about things to note and what to observe, and gave the interns some background knowledge.


  本次上午行程參訪東和音樂體驗館。首先至環保音樂區,導覽人員介紹本區樂器皆由破銅爛鐵或資源回收之器物製做而成,利用材質特性、長短高低等影響因素,以更有想像力的方式,創造出不同聲音。見習生透過操作館內環保樂器,能觀察傳遞聲音的介質,其長短鬆緊與高低音之間的關係。接著前往鋼琴工廠參觀,導覽人員首先說明該廠鋼琴為手工製造,平均一架直立式鋼琴約需3個月的時間完成,隨即帶領眾人依生產線順序移動,講述鋼琴組裝流程,並簡單介紹內部打弦系統的主要零件之一「音槌」。待鋼琴打弦系統安裝完畢,即進行調音及打鍵測試,其中會於打鍵室以每分鐘敲打750次的快速頻率來活絡琴鍵,眾人實際觀看打鍵室運作的情況,不禁嘖嘖稱奇。
  The morning's itinerary was a visit to Tong Ho Music Museum. At its eco-music zone, the tour guide explained that all musical instruments in that zone are made from scrap metal or recycled objects. Making use of the characteristics, length and height of different materials, sounds are created in more imaginative ways. By trying out the eco musical instruments, interns were able to observe each medium of sound transmission, and the relationship between length, tension and pitch. In the piano factory, the tour guide began by explaining that pianos in the factory are handmade. Each upright piano requires approximately three months to build. As everyone followed the flow of the production line, the tour guide explained the assembly process for a piano, and gave a brief introduction to one of the main components of the struck string system - the hammers. Once installation of the piano struck string system is complete, it will be tuned and the keystrokes tested. The piano keys will be activated by having them hit 750 times per minute. Everyone was amazed by the operation in the striking chamber.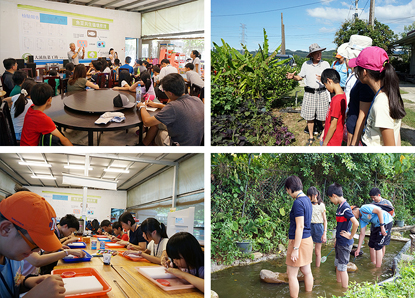 中午飯後,至鋼琴解剖區進行導覽,結合上午學習到的知識,導覽人員解釋鋼琴發聲的原理,並示範響板於鋼琴內部擴音的功能,隨後講述琴弦長度與粗細對高低音的影響,亦教導鋼琴調音係對琴弦鬆緊做調整。緊接著至聲音體驗區,此區設有多樣樂器,包括打擊樂、電子樂及模仿自然界聲音的模擬器等,導覽人員解說各項樂器演奏方式與其發聲原理,讓眾人操作時能有更深刻的印象。行程最後至大溪魚菜工坊,一開始由農場主人解釋何謂魚菜共生及運作的原理,後將人員分成三小組輪流進行導覽及DIY活動。首先農場主人介紹農場內部種植的蔬果及養殖的魚類,展示魚菜共生實際運作的樣貌,亦舉出其優缺點,說明能以環保無毒的方式生產食材,但蔬果易缺鐵黃化需要噴灑鐵劑。最後進行簡易魚菜共生盆栽DIY及撈魚體驗,見習生們皆玩得不亦樂乎。至此,本日活動已近尾聲,大家一起合照留念後搭車返程,並期待於下次見識之旅再相見。
  After lunch, in the piano dissection zone, the tour guide explained the principle behind how the piano makes sounds, and demonstrated the sound amplification function of the soundboard. The tour guide also explained the effect of string length and thickness on the pitch of the sounds, and that tuning is adjustment of string tension. In the sound experiential zone, which showcases a wide variety of musical instruments, including percussion instruments, electronic instruments and instruments that simulate sounds of nature, the tour guide described how the instruments are used and their sound-making principles, giving everyone a deeper impression of how the instruments work. The last part of the tour was a visit to Daxi Aquaponics Workshop. The farm owner began by explaining what is aquaponics and its operating principle, and then the group was divided into three teams for a guided tour and DIY activity. The farm owner introduced fruits and vegetables grown at the farm, and fishes reared, demonstrating the actual operation of aquaponics. Pointing out the advantages and disadvantages of aquaponics, he said that aquaponics is an environmentally friendly method to produce food but fruits and vegetables grown require iron spray due to yellowing caused by iron deficiency. Finally, the interns made their DIY aquaponics pots and experienced fishing with a net, thoroughly enjoying themselves. At this point, the day's itinerary came to an end. Everyone took a group photo before heading back and looked forward to the next study tour.