Sponsorship of Game Developer Communities in Taiwan 2017
webmaster
2017-12-30
1020 reads
2017國內遊戲開發社群贊助案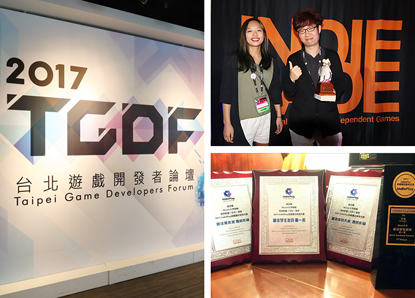 本會自2011年起陸續贊助國內獨立遊戲開發者,前往海外參與各項獨立遊戲作品相關競賽,讓開發者在差旅負擔有一定減輕的情況下,鼓勵他們前往海外交流,關注目前全球遊戲媒材的變化與創新趨勢。本年度贊助赤燭遊戲及天箏工作室前往洛杉磯IndieCade進行作品入圍與獲獎發表。同時,也贊助諾西遊戲與三組學生團隊前往上海indiePlay進行作品入圍與獲獎發表。
  Since 2011, the ARF has been successively sponsoring Taiwan independent game developers in their participation in independent game related competitions overseas. By lightening the burden of travel expenses for these developers, the aim is to encourage them to go overseas for exchange and interaction, and keep up with changes and trends in game media worldwide. This year, the ARF has sponsored Red Candle Games and Zinno Studio in their trip to Los Angeles to participate in IndieCade finalist announcement and presentation, and also Noxy Games and three student teams in their trip to Shanghai to participate in the indiePlay finalist announcement and presentation.

  此外,在鼓勵開放分享、人才培育的脈絡下,本會亦循支持開源論壇活動之模式,針對台北遊戲開發者論壇進行贊助。此活動為完全由民間社群參與資助之代表性活動,於2017年已邁入第6屆,參加者規模超過千人,並擴大舉辦獨立遊戲展示專區,提供開發者面對同儕與使用者的互動機會。論壇部份內容從遊戲開發相關之設計、美術、程式、音樂音效與專案管理,到社群營造、市場商務、未來趨勢觀察等多面向議題皆有包含。本會期望透過投入相關活動,能讓開發者間交流更加活絡,傳承經驗、面向國際。
  To encourage open sharing and talent nurturing, the ARF has sponsored the Taipei Game Developers Forum in the same way it has supported open source forums. Taipei Game Developers Forum stands out by being an event that is fully funded by private communities. Held for the sixth year in 2017, it had attracted over a thousand participants, and provided an independent game display area for developers to interact with peers and users. The Forum covered issues from multiple perspectives, including game development related design, art, programming, music/sound effect and project management, community building, commerce and future trend observation. It is hoped that participation in the event will allow developers to interact more actively, share their experience and take their games international.