Sketch of Public Policy Communion, September 2017
webmaster
2017-10-16
508 reads
2017年9月份國政聯誼會縮影


  本會已於2017年9月17日假晶華酒店地下三樓晶英會舉行「祐生國政聯誼會」。在主持人黃晉英秘書長宣布後揭開當日活動序幕,在輕鬆、活潑的節目過後,隨即由主持人帶來重要訊息:「雖已入秋,但氣溫仍高,導致人心較為躁動。因此,祐生恩梯特組仍持續針對台灣氣候異變情形進行研討,尋求因應方案。另外,生活特組也持續討論祐生潛盾計畫中心可居性的具體方案,結合下世代居住規格及共生生態環的理念,期能通過氣候異變的考驗。最後,提醒大家溫差變化大,應注意身體狀況,並要累積更多知識量,以能因應世界的瞬息萬變。」
  The September Archilife Public Policy Communion of 2017 was held on September 17, 2017. After a series of relaxing and fun activities, Secretary General Huang Chin-ying made the following announcement, "Though we are already entering autumn, the temperature is still high. This can make us feel irritated. Therefore, the NT Special Team of Archlife continues to research the anomalies in Taiwan's climate change in order to seek responsive measures. In addition, the Living Special Group also continues to discuss practical projects regarding the livability of Archlife Sub-Shield Center in order to combine its accommodation specs for the next generation with the ideas of a symbiotic eco-sphere, and expect to pass the tests of climate change. Finally, I have to remind everyone that due to great daily temperature difference, please pay attention to your physical status and acquire more knowledge in order to respond to the rapidly changing world."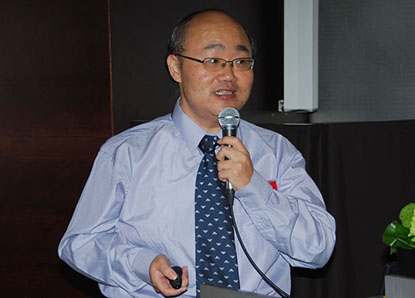 緊接著進行專題演講,由李書安先生主講「呼吸防護計畫介紹」。主講人首先提到呼吸防護具是幫助佩戴者抵抗空氣中的危害物。正確地選擇與佩戴呼吸防護具,才能讓呼吸防護具在氣候異變下發揮其真正的防護效能。現行法令僅要求雇主應提供呼吸防護具給勞工,目前並無要求編撰呼吸防護計畫之規定,故建議於職業安全衛生設施規則中,明列呼吸防護計畫與所需內容。主講人接著以圖片介紹許多呼吸防護具的型式,並強調密合度的重要性,以及認知正確的使用方式。
  Next on the schedule was the keynote speech. First, Mr. Li Shu-an, presented a speech on the "Introduction into Respirators Project". First, the speaker mentioned that respirators are devices that help the wearer to protect themselves from air pollutants. Selecting and wearing respirators correctly enables them to demonstrate their actual protective effects under climate change. Current legal regulations only demand employers to provided respirators to laborers and have yet to demand the compilation of any rules regarding respirator projects. Therefore, he suggested that respirator projects and demands should be clearly stated in the Rules on Occupational Safety and Health Facilities. He then introduced various respirator forms with pictures, stressed the importance of seal tightness, and knowing how to use them correctly.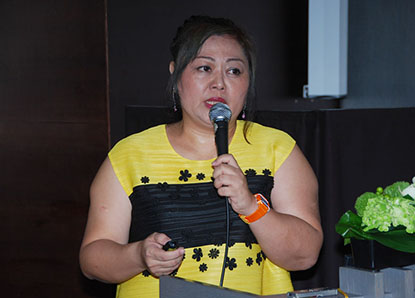 接著由國政會委員孫瑞穗小姐主講「性/別與環境:公共環境中的性/別議題」。主講人首先說明性別與環境在西方國家已為主流議題,目前台灣仍在努力推動。在社會空間區隔化中,例如女性專用車廂雖為美意卻引起爭議;在工作環境歧視,常見同工不同酬;在科技技術落差所產生的歧視。主講人接著提到性別主流化運動為期望透過政府政策及資源分配,改變男女不平等的處境,目前行政院性別平等委員會依循CEDAW推動性別平等,進而影響各個領域。最後,主講人表示台灣推動性別平等已有十年成就,應繼續提升至環境、都市設計及公共藝術的美學裡。
  Next, Ms. Sun Ruei-suei, spoke on "Gender and Environment: Gender Issues in Public Environments". First, the speaker explained that the relationship between gender and the environment has become a major agenda in Western countries, while Taiwan is still working hard to promote it. The separation of social spaces, such as women-only cars, while good-intentioned, has caused disputes. As for working environment discrimination, different payment for the same work is still a common phenomenon. Discrimination also occurs due to gaps in technology and skills. Ms. Sun then explained that mainstream gender movements expect to change the situation of gender inequality through government policies and resource distribution. Currently, the Gender Equality Committee of the Executive Yuan has promoted gender equality polices according to CEDAW and attempts to influence various fields. Finally, Ms. Sun stated that although the promotion of gender equality in Taiwan has gained progress over ten years. It should continue to be promoted in the environment, urban design,and public art aesthetics.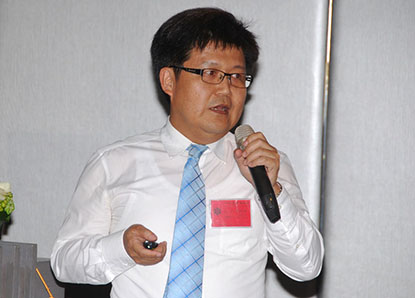 接著由國政會委員林裕益先生主講「前瞻防災之人工邊坡管理」。主講人首先說明崩塌為邊坡固體的移動,有發生區及堆積區,土石流為谷地流體的流動,有發生區、流動區及堆積區。於水土保持技術規範中明訂邊坡緩衝帶之距離,但是否足夠仍有待商榷。以台北市為例,五大山系皆緊鄰住宅區,歷年來發生多件邊坡災害,故應做好維護管理,以預防降低風險。因此,主講人本著邊坡風險排序分級管理的原則,完成邊坡兩萬多筆調查建檔,於大地工程處網站輸入編碼或地址等資料,均可查詢,有利邊坡巡檢治理。近年來國道、省道也陸續啟動邊坡管理,足見此舉已發揮前瞻影響力。
  Next, Mr. Lin Yu-yi, spoke on "Proactive Disaster Prevention: Management of Artificial Slopes". First, the speaker explained that the collapse of slopes is a movement of solids that creates an occurrence area and an accumulation area, while a mudslide is a movement of fluids that creates an occurrence area, a flow area, and an accumulation area. Although the distance of the slope buffer strip is clearly stipulated in the Technical Regulations for Soil and Water Conservation, it is questionable whether this distance is adequate. Take Taipei City for example, its five major mountain systems are located near residential areas and have resulted in various slope disasters in the past years. Maintenance and management should be taken care of to prevent and reduce risks. Therefore, on the principle of slope risk sorting and classification management, Mr. Lin has investigated and made an archive of more than 20,000 slope data points. Users can refer to this information by entering serials codes or addresses at the website of the Geotechnical Engineering Office. In recent years, the slope management of national and provincial highways has started, symbolizing the proactive influence of such measures.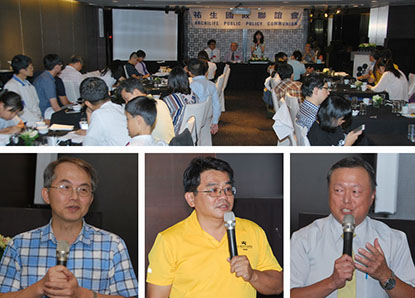 演講完畢,黃晉英秘書長代表基金會致贈謝禮予主講人。接著在與會者紛紛利用「餵豬時間」提出個人意見與看法互相交流後,圓滿地結束九月份國政聯誼會。
  After the speech, Secretary General Huang Chin-ying presented a gift to the speakers on behalf of the foundation. Then, attendees expressed and exchanged their opinions and views during the piggy hour. The September Archilife Public Policy Communion ended smoothly.