Sketch of Archilife Study Tour, April 2017
Date: 2017-05-16
Section: Activity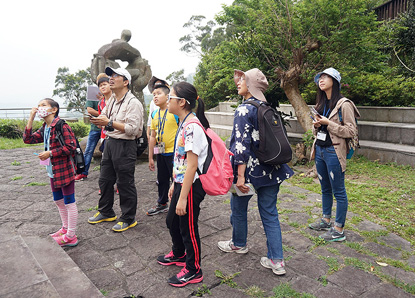 4月份見識之旅活動,於2017年4月15日由呂明澐小姐帶領5位祐生見習生及家長們,進行觀音山猛禽生態暨在地文史巡禮之旅。活動開始之初,領隊呂明澐小姐提醒本次活動注意事項及觀察重點,先行建立見習生的背景知識。
  For the study tour of April 15, 2017, Ms. Lu Ming-yun led five ARF interns and their parents on a tour to Guanyinshan to learn about the birds of prey, and the local history and culture. At the start of the day's activities, team leader Ms. Lu Ming-yun reminded everyone about things to note and what to observe, and provided the interns some general background knowledge.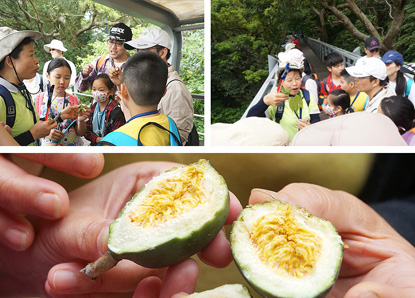 本次行程以觀音山「觀音‧觀鷹」活動為主軸,由野鳥學會主辦,旨在推廣、教育民眾相關知識,提供過境猛禽能安心休息、與人類和諧共存的環境。行程一開始,由導覽人員講解觀音山的成因,隨即前往林梢步道,林梢步道設於森林內部,眾人得以更加親近低海拔的闊葉林樹冠層。導覽人員沿途介紹森林林相及周邊樹種,並針對其中一株愛玉樹做詳細解說,亦比較愛玉子與薜荔之間的異同,使見習生們更進一步了解變種間的雜交特徵。接著步行至開山院與楞嚴閣,前者由凌雲禪寺第二代住持建置,後者為其大弟子所建。二者皆設於日治時期,以觀音山石打造,融入印度天竺式圓頂建築、閩南式迴廊及巴洛克式的建築風格,是難得一見的特殊宗教建築。
  Organized by the Wild Bird Society, the objective of the event was to promote and educate the public on providing an environment where migrating birds of prey could rest in peace and exist in harmony with human beings. The itinerary began with the tour guide explaining the formation of Guanyinshan. Next, everyone walked along the Treetop Walkway into the forest, coming into close proximity with low-altitude canopy. Along the way, the tour guide introduced the forest form and surrounding tree species. Focusing on a particular fig tree, the tour guide explained the differences between Ficus pumila var. awkeotsang and Ficus pumila, allowing the interns to further understand plant mutation and hybridization. Everyone continued to walk to Kaishan Mansion and Lengyange. The former was built by the second-generation abbot of Lingyun Buddhist Temple while the latter was built by his oldest disciple. Both buildings were built during the Japanese Occupation using stones from Guanyinshan. They're unique religious buildings that feature a fusion of different styles of architecture, including the Indian-style domed roof, southern Fujian-style corridors and Baroque-style façade.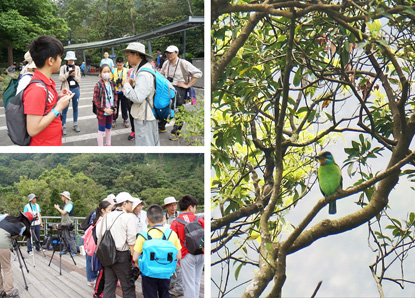 隨後返回活動會場,由野鳥學會人員解說猛禽生態,以猛禽遷徙為主題,講述其遷移的原因、方式及路線。一般認為猛禽在北方生活,當秋季來臨,天氣環境趨於嚴苛、食物匱乏,而南遷至食物充足的地區,待春季氣候回暖,再回北方繁殖。體型較大的猛禽,翅膀展翼時可超過一公尺長,藉由上升的熱氣流協助飛行、節省體力,以滑翔之姿翱翔天際,故猛禽通常能夠飛得較高較遠。緊接著來到賞鷹平台,以單筒望遠鏡實際觀察猛禽及五色鳥的生態,眾人親見猛禽低飛的英姿,皆十分興奮。
  Upon returning to the event venue, a member of the Wild Bird Society explained the reasons, method and route for the migration of the birds of prey. It is commonly believed that as autumn approaches and the climate becomes harsh and food is insufficient, these birds of prey migrate to the south where food is abundant while they await the warmer weather in spring when they will fly back north to mate and nest. The larger birds have wings that are over one meter long when fully spread out. Utilizing thermal, these birds are able to save energy and glide across the sky, allowing them to fly higher and further. Observing birds of prey and Taiwan barbet through a telescope at the eagle viewing platform, everyone was thrilled to see the splendor of the birds as they flew low over the skyline.

  午餐後,至簡報室觀賞「九九蜂鷹」,本片將東方蜂鷹的生態及其與養蜂場間的關係,做詳細的拍攝與記錄。影片播畢後,由導演進行影片拍攝的分享,透過大量照片傳達拍攝追蹤的困難,並以問答的方式為眾人解惑,見習生因而對東方蜂鷹有更深入的了解。至此,本日活動已近尾聲,大家一起合照留念後各自返家,並期待於下次見識之旅再相見。
  After lunch, everyone went to the briefing room and watched a documentary film about the Oriental honey buzzards of Ninety-nine Peaks. The documentary film is a detailed record of the ecology of the Oriental honey buzzards and their relationship with the bee farms. At the end of the film, the director shared his interesting experience of filming the birds. He conveyed the difficulties of filming and tracking the birds through many photos, and answered everyone's questions, providing interns a deeper understanding of the Oriental honey buzzards. At that point, the day's activities came to an end, everyone took a photo together before going their separate ways and looked forward to the next study tour.


This article comes from Archilife Research Foundation
https://en.archilife.org

The URL for this article is:
https://en.archilife.org/modules/wfsection/article.php?articleid=885



Copyright (c) 2023 by Archilife Research Foundation