Sketch of Archilife Study Tour, December 2021
Date: 2022-01-22
Section: Activity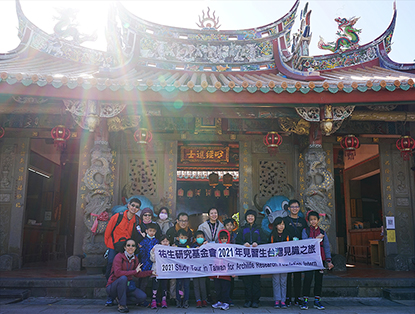 12月份見識之旅活動,於2021年12月19日由呂明澐小姐帶領15位祐生見習生及家長們,進行新竹湖口老街漫步暨九芎湖農村生態之旅。
  For the study tour of December 19, 2021, Ms Lu Ming-yun led 15 ARF interns and their parents on a trip to Hukou, Hsinchu, for a stroll on its old street and a visit to the Jiuqionghu farming village.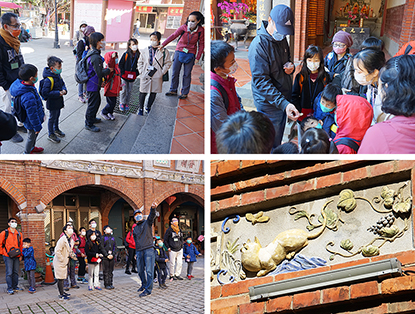 本次上午行程前往湖口老街,由在地文史工作者劉光仁先生擔任導覽老師。第一站來到湖口百年古蹟—三元宮,建於日治時期,是當地的信仰中心。行程之初,劉老師說明廟宇進出的原則,一般來說會有三扇廟門,以主神往門外的方向為基準,其左方是龍門為進,右方是虎門為出,進龍門出虎口代表消災納福之意,而最中間的門係御路,為神明出巡時出入之用。隨後介紹廟門兩側的石獅子,石獅子分公母,劉老師教導眾人辨別的方法,以問答方式引導見習生思考其中意涵。接著講述廟宇建造最重要的二項要素,即金錢與土地,廟方會將捐贈者的姓名及捐贈金額刻於石牆上以表謝意,當時貨幣的最小單位為角,劉老師以孩童時代的經驗解釋一角在當時可換得的等值的物品,對比現今狀況,讓眾人更容易理解早期貨幣金額歷經通貨膨脹後至今的差異。隨後前往湖口老街,劉老師首先解說老街歷史,並說明街屋主要為巴洛克式紅磚建築,其山牆上的裝飾隱喻當時主人家的心境寫照或對後代子孫之期許。湖口老街因鐵路興建而繁榮發展,隨著車站遷移而沒落,所幸由於產權因素得以將如此珍貴的歷史建築保留下來。
  The morning's itinerary took everyone to Hukou Old Street. Guided by local historian Mr. Liu Kuang-jen, the first stop of the tour was Sanyuan Temple, a century-old relic built during the Japanese Occupation and is the center of the local's faith. Mr. Liu began with an explanation of the principles of going in and out of temples. In general, each temple has three doors. From the viewpoint of the main deity looking toward the doors, the left door is the dragon door and is used for going into the temple while the right door is the tiger door and is used for getting out of the temple. Going in through the dragon door and out through the tiger door means warding off misfortune and bringing in good luck. The middle door is the "imperial path" and is used by the deities when they go on their royal progress. Mr. Liu also taught everyone how to differentiate the gender of the stone lions on both sides of the temple, and had the interns contemplate its significance through questions and answers. The two most important factors in temple construction are money and land. In appreciation of their donation, the temple will carve donors' name and contribution amount on the stone wall. When the temple was first built, the smallest unit of currency then was "jiao". Using his experience in childhood, Mr. Liu described items that could be bought with one "jiao" at that time and when compared to today's situation, everyone could easily understand the discrepancy in currency value due to inflation over time. Moving on to Hukou Old Street, Mr. Liu began by explaining its history. Pointing out that most houses on the street are red-brick buildings in Baroque style architecture, Mr. Liu said the ornamentation on the walls allude to the owners' state of mind and hope for their descendants. Hukou Old Street flourished with the construction of the railroad and declined when the train station was relocated. Fortunately, the precious historical building was preserved due to an issue with property rights.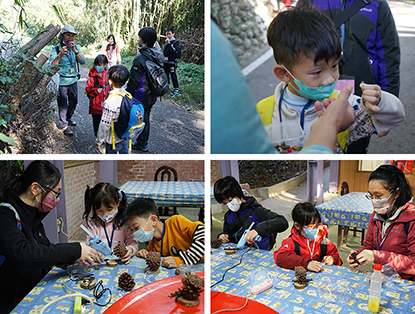 下午行程以走訪九芎湖休閒農業區及認識園區植物為主軸。導覽老師首先介紹九芎湖名稱由來,「湖」與「窩」在客家話裡的意思指山與山之間的凹陷處,前者寬廣,後者較狹窄,彼時因客家人晚於漢人來台,而往相對內陸的山凹處發展聚落,所以許多客家聚落的地名中多有湖或窩,並非真有其湖,而是凹陷地形的意思。導覽老師沿途帶領眾人認識農業區內植物,九芎湖為環境教育場域,當地植物及昆蟲生態十分豐富,然目前正值冬季,非昆蟲活躍時節,稍微可惜,期待夏季昆蟲活躍之際再訪。行程最後進行松果動物擺飾DIY,利用園區掉落的松果植物製做裝飾品,環保再生、美化日常生活。至此,本日活動已近尾聲,大家一起合照留念後搭車返程,並期待於下次見識之旅再相見。
  The afternoon's itinerary took everyone to Jiuqionghu recreational and farming area to learn about plants in the area. The tour guide began by introducing the origin of the name "Jiuqionghu". Both "Hu (lake)" and "Wo (nest)" mean the depression between mountains in Hakka dialect. The former refers to a wide depression while the latter refers to a narrow depression. A long time ago, the Hakkas arrived in Taiwan later than the Han Chinese and settled further inland in the low areas between mountains. Thus, the names of many Hakka settlements have the word "Hu" or "Wo" today although they do not actually mean "lake" in the literal sense. Along the way, the tour guide introduced many plants in the farming area. Being a place for environmental education, it is home to a wide diversity of indigenous plants and insect species. However, as the tour took place on a winter day, the insects were in diapause and everyone could only hope to revisit in summer when the insects resume their activity. At the end of the tour, everyone participated in a DIY activity using pinecones and plants scattered on the grounds of the farming area to make eco-friendly and delightful animal ornaments. At this point, the day's itinerary came to an end. Everyone took a group photo before heading back and looked forward to the next study tour.


This article comes from Archilife Research Foundation
https://en.archilife.org

The URL for this article is:
https://en.archilife.org/modules/wfsection/article.php?articleid=1067



Copyright (c) 2022 by Archilife Research Foundation